If fall is your favorite time of year, you're not alone! With the woodsy aromas of fall candles, the chilly breeze in the air, and all the fun family activities, fall has to be the best time of all. We understand that, which is why we've created a checklist of fun fall activities to get you through the season, along with some helpful HVAC tips to make sure your home is as ready for the cooler weather as you are! cooler weather checklist
Things To Do On Your Cooler Weather Checklist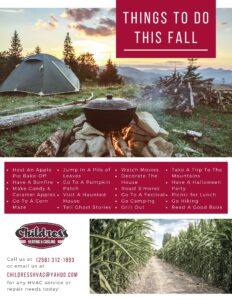 HVAC Maintenance
The most important aspect of keeping your home comfortable throughout any season is the proper upkeep of your HVAC system, so taking the necessary precautions for healthy system performance is crucial. Follow these 5 steps to keep your system running smoothly throughout every season.
1. Change or Clean Your Air Filter
At the beginning of every new season (or every 1-3 months), you should change or clean your HVAC air filter. Over just a short period of time, air filters go through a lot, constantly catching particles that could otherwise hinder your home's air quality. The longer you go without changing or cleaning your air filter, the less effective it becomes at doing its job. On top of having less healthy air in your home, your energy bills will rise as the system performs less efficiently. Be sure to change your filters at the start of every new season, or every 1-3 months depending on your home's indoor environment.
2. Clean the Air Vents
If you've taken a look at your air vents lately, you may notice layers of dust, pet hair, or other debris. If so, it's time to clean them! For a quick, simple cleaning, dust and vacuum your air vents to remove loose particles. For a deeper, more effective cleaning, remove vent covers and wash them in warm soapy water. Be sure to dry the vents off before replacing them. Cleaning your air vents helps to keep your home cleaner and more comfortable while keeping your HVAC system running more efficiently.
3. Clear Around the Outdoor Unit
While we love to watch the leaves fall slowly to the ground during this time of year, we don't like to watch them pile up on our outdoor system. Debris on the outdoor system can cause it to run less efficiently and could even cause a system breakdown. Free your outdoor system of leaves, limbs, and any other debris to ensure efficiency and lessen your risk of costly future repairs. It's also a good idea to keep the area around the outdoor unit clear. Don't let bushes, foliage, trees, or fences get too close to the system.
4. Upgrade Your Thermostat
If you don't currently have a smart or programmable thermostat, you could be missing out on tons of savings, especially as the temperature changes. Smart thermostats allow you to control the temperatures in your home right from your phone, and programmable thermostats allow you to set temperatures on hourly, daily, or weekly schedules. As the seasons change, these thermostats are a great addition to keeping your comfort levels properly adjusted.
5. Call Childress Heating & Cooling
If your home isn't as comfortable as you desire, call Childress Heating & Cooling. We've got the solutions to all your heating and cooling repair needs, and if needed, we've got new comfort systems for any size home and budget. We offer FREE in-home estimates for new system installations with no obligation. Our goal is always total comfort for you and your family. We promise to solve your HVAC needs with courtesy and honesty at a fair price.
What Next?
To view the services we offer at Childress Heating & Cooling, visit our website. We will be happy to help get your HVAC system ready for any season. 
For more information about our HVAC services, contact us at childresshvac@yahoo.com or call us at (256) 312-1893, and be sure to follow us on Facebook and Instagram. cooler weather checklist cooler weather checklist cooler weather checklist