Game-Day Recipes to WIN Your Guests Over
Game day is not just about cheering for your favorite team; it's also an opportunity to gather with friends and family, enjoying good company and great food. When it comes to hosting a successful game-day gathering, having delicious and crowd-pleasing recipes is essential. Follow along for delicious game-day recipes to WIN your guests over and get ready to elevate your game-day menu to a competitive level!
1. Spicy Buffalo Chicken Dip: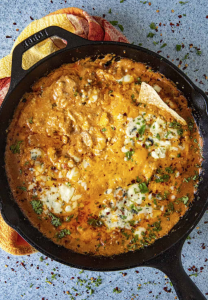 It's not game-day without buffalo chicken dip. Combining shredded chicken, cheese, tangy buffalo sauce, and more cheese, it's the perfect balance of heat and creaminess. Serve it with tortilla chips, celery sticks, or toasted bread for dipping. You will win over your guests with ease with this delicious dip! 
2. Loaded Nachos: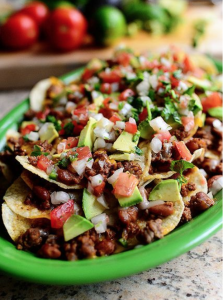 Stacked high with crispy tortilla chips, melted cheese, ground beef, jalapeños, black beans, and diced tomatoes, loaded nachos are a crowd favorite. Customize them with your favorite toppings like guacamole, sour cream, or salsa for an extra flavor kick. If you really want to get your guests involved in the process, create a loaded nacho bar for your game-day party. Let your guests pick and choose their favorite toppings! 
3. Mini Sliders:
Sliders are the ultimate handheld game-day food. There's nothing like grilling out on game-day! Prepare bite-sized burgers with juicy beef patties or pulled pork, topped with cheese, caramelized onions, and pickles. Serve them on mini buns with a side of ketchup and mustard for the perfect game-day bite. These simple yet scrumptious snacks will win over everyone at your party!
4. Sticky BBQ Chicken Wings:
Another game-day staple are wings! Coat them in a sticky barbecue sauce, bake them until crispy, and watch the crowd go wild. Serve with a side of ranch or blue cheese dressing for dipping and some carrot and celery sticks for a refreshing crunch.
5. Loaded Potato Skins: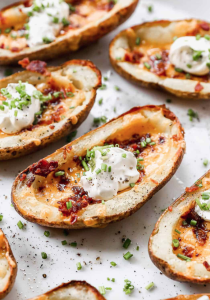 An easy game-day snack is fantastic loaded potato skins. Transform ordinary potatoes into these crispy vessels of flavor. Scoop out the potato flesh, leaving a thin layer inside the skins. Fill them with shredded cheese, bacon bits, and green onions. Bake until the cheese melts and the skins turn golden brown. Serve with sour cream or a dollop of guacamole.
6. Mini Stuffed Peppers:
These bite-sized stuffed peppers are packed with flavor. Cut mini bell peppers in half, remove the seeds, and fill them with a mixture of cream cheese, shredded cheddar, and cooked chorizo. Bake until the peppers are tender and the cheese is melted. Sprinkle some fresh herbs on top for an elegant touch. This unique dish will bring something new to the table!
7. Cheesy Jalapeño Poppers:
Spice up your game-day spread with these cheesy and fiery treats. Cut jalapeños in half, remove the seeds, and stuff them with a mixture of cream cheese, shredded cheddar, and crumbled bacon. Bake until the jalapeños are tender and the cheese is bubbly.
8. Ultimate Guacamole:
Guacamole is a must-have on game day. Mash ripe avocados with lime juice, diced tomatoes, red onion, cilantro, and jalapeño for a fresh and tangy dip. Serve it with tortilla chips or as a topping for your sliders, nachos, or potato skins.
9. Chocolate Peanut Butter Brownies: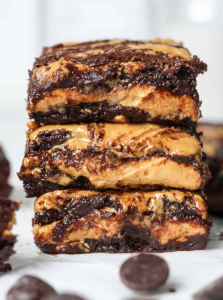 This amazing dessert will have you and your guests' mouths watering! Finish off your game-day strong with this sweet treat. These decadent brownies combine rich chocolate and creamy peanut butter. Serve them warm with a scoop of vanilla ice cream for an irresistible dessert that will leave your guests cheering.
10. Chocolate Dipped Strawberry Footballs: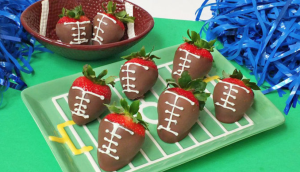 Everyone loves chocolate covered strawberries, so combine this delicious treat with the excitement of the football season! Start by washing and drying your strawberries. Next, melt your chocolate of choice, and coat the strawberries in the chocolate. To create the football design, use a piping bag or plastic bag to pipe curved lines to resemble the stitching on a football. Allow the chocolate to set, and enjoy! 
Score Big!
With these delightful game-day recipes, you are sure to WIN your guests over at your next game-day party! From the classic favorites like spicy buffalo chicken dip and loaded nachos to creative delights such as mini stuffed peppers and chocolate-covered strawberry footballs, your menu is sure to score big!  
Contact Us
While you enjoy the game, remember that your home should be comfortable for you and your guests. Childress Heating & Cooling is your local American Standard Customer Care dealer serving Southside and Gadsden communities for over 20 years. If you need any assistance with your HVAC system, do not hesitate to call us at 256-312-1893 or visit our website. We're proud to be our community's #1 choice when it comes to heating and cooling.
Follow us on Instagram and Facebook to be the first to know when more helpful blogs are posted! game-day recipes game-day recipes game-day recipes game-day recipes